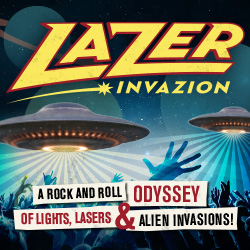 LAZER INVAZION LIVE! Premieres this Saturday (6.4.22) at The Frida in Santa Ana
(Los Angeles, Calif.) A warp-driven laser ride through time and space, LAZER INVAZION is guaranteed to boldly take you where you've never been before. The mind-bending sonic and visual explosion lands at The Frida Cinema in Santa Ana, Calif., this June.
The Frida Cinema is located at 304 E 4th Street, #100, Santa Ana. Tickets can be purchased at thefridacinema.org.
Saturday, June 4 | 8 p.m. and 11 p.m.
Saturday, June 11 | 11 p.m.
Saturday, June 18 | 11 p.m.
Saturday, June 25 | 11 p.m.
Get in touch with your inner spaceman and suit up for a fantastical journey through the multi-media cosmos of our shared imagination delivered by a full battery of high-tech lasers, theatrical lighting and high definition video choreographed to the concert-quality sound of your favorite, out-of-this-world themed rock-n-roll by David Bowie, Queen, Duran Duran, The Police, The B-52's, Portishead, Moby, The Church, Soundgarden, Patti Smith, Daft Punk and more of your favorites from across all time!
https://redtailentertainment.com/wp-content/uploads/2022/06/250x250.jpg
250
250
Scott Strong
https://redtailentertainment.com/wp-content/uploads/2020/07/red-tail-ent-final-1-1.png
Scott Strong
2022-06-02 17:51:51
2022-06-02 17:52:10
LAZER INVAZION LIVE! Premieres this Saturday (6.4.22) at The Frida in Santa Ana